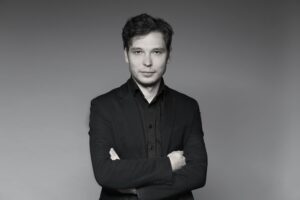 Andrey Nesterenko was born on 18 September 1986 in Gorky City in the USSR (Russian Federation).
His musical education began at the early age of 4 with a private teacher, and he continued his studies at the 10th Music School of Nizhny Novgorod (Russia) and the Musical College of Nizhny Novgorod, where he was taught by the Honoured Worker of Russian Culture, N. Fish. Andrey furthered his musical education in The Netherlands under the guidance of Prof. Michail Markov. In 2006, he successfully completed his Bachelor's degree, followed by his Master's degree in Music in 2009.
Andrey's journey into competitions started in 1995 at the age of 8 when he participated in a competition in Kaliningrad (Russian Federation) and became a laureate. This marked the beginning of his participation in numerous National and International Competitions throughout Europe, where he garnered several prizes, including:
Grand Prix at the International Piano Competition in Denmark (2001)
2nd Prize at the International Piano Competition for Young Musicians in Enschede, The Netherlands
1st Prize at the National Competition "YPF" in Den Haag, The Netherlands (2004)
2nd Prize at the International Competition "EPTA Belgium" in Namur, Belgium (2007)
Since 2015, Andrey has been working at the ArtEZ Conservatorium in Zwolle (The Netherlands) as a piano coach. And as a guest teacher and correpetitor in other esteemed institutions such as the Prince Claus Conservatoire (Groningen, The Netherlands), Hochschule für Musik Detmold (Germany), and Hochschule für Musik und Tanz Köln (Germany). He has collaborated as a piano coach with various esteemed teachers, including Johan van der Linden (Saxophone), Tonnie Kievits (Trumpet), Julia Dinerstein (Viola), Femke Ijlstra (Saxophone), Egbert Jan Louwerse (Flute), Celeste Zewald (Clarinet), Mette Laugs (Bassoon), among many others.
Andrey remains consistently engaged in concert activities, continuously expanding his repertoire in solo and chamber music, and demonstrating great enthusiasm for realizing new musical projects.
Some of his most notable projects include:
Founder and Producer of the International Musical Organization "Music Take In"
Part of the Piano Duo "Le Couple" alongside pianist Sofia Vasheruk
Collaboration in various saxophone duos, such as with Jos Baggermans (The Netherlands), Puck van der Hoeven (The Netherlands), Lukas Stappenbeck (Germany), and Simon Brew (New Zealand).
Through his performances, he strives to present classical music with a fresh perspective, making it captivating and appealing to the public. He achieves this by skillfully combining various musical pieces from different time, intertwining them with other art forms, and skillfully narrating stories through his music.