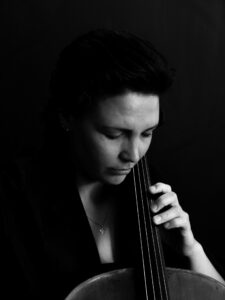 Aleksandra Kaspera is a naturally gifted musician. She holds qualities of an accomplished artist with a strong stage presence. Ms. Kaspera is recognized for her sincere, inspiring and exceptional performance.
She is a permanent member of the The String Soloists chamber orchestra of the Dutch violinist Lisa Jacobs. The String Soloists performed on television, radio and in the most important halls in The Netherlands such as Concertgebouw Amsterdam, Paleis Het Loo, Tivoli Vredenburg, De Harmonie Leeuwarden, Stadsgehoorzaal Leiden, and Muziekgebouw Eindhoven, as well as touring Germany, Italy and Portugal. Besides working with various orchestras Aleksandra is passionate chamber music performer. Essential role in her career takes cello piano chamber music.
Her repertoire includes major works by J. S. Bach, L. v. Beethoven, F. Chopin, J. Brahms, S. Rachmaninoff, K. Debussy, G. Ligeti, G. Enescu among others.
During her studies she performed for renowned musicians like Maria Kliegel, Gary Hoffman, Gavriel Lipkind, Gordan Nikolitch, Justus Grimm and others. During her student years Ms. Kaspera was a valued member of various youth orchestras in Denmark, Lithuania, Sweden, Arnhem Philharmonic Orchestra and Orkest van het Oosten in the Netherlands. She has also been appointed as the principal cellist of the ArtEZ Baroque project, working with The Holland Baroque Society.
In 2012 Aleksandra graduated cum laude her master studies and since then she has been working as a freelance cellist.
Aleksandra plays Cello, (anno 1820) made by Lodewijk Willem Roumen of Amsterdam given to her on loan by a benefactor for which she is very grateful.