Crisp clean playing, buoyant orchestral interaction and superb recorded sound all make this a very pleasurable listen. – BBC Music Magazine
Dutch violinist Lisa Jacobs performs three of Locatelli's concertos with bold characterisation, and meets their formidable technical challenges with commendable athleticism and élan. – The Strad, UK
'Een violiste om direct te omarmen' – Klassieke Zaken
'Beeldschoon, gracieus en spatzuiver' – De Volkskrant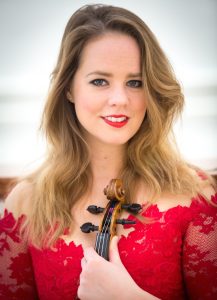 Dutch violin virtuoso Lisa Jacobs is known for her passionate performances, interesting programs and communicative qualities on stage. She is equally at home on the concert stage with concertos, chamber music, recitals and solo works.
At the age of only 17, Lisa made her successful debut with the Royal Concertgebouw Orchestra under the baton of Riccardo Chailly. She has played several times in all the major concert halls of the Netherlands and all around the world ever since, both as a soloist with renowned orchestras and conductors, as a recitalist with her pianist Ksenia Kouzmenko and at chamber music festivals, always to highly critical acclaim, receiving brilliant reviews and finding ecstatic audiences.
She receives much attention in both national and international media, with live radio concerts, television broadcasts and interviews. Lisa has won several top prizes in both national and international competitions.
Miss Jacobs collaborated with amongst others Royal Concertgebouw Orchestra, Amsterdam Sinfonietta, Brussels Philharmonic, Bremer Philharmoniker, Lithuanian Chamber Orchestra,  Orchestra Sinfonica Abruzesse, Residentie Orchestra and respected conductors such as Neeme Järvi, Mariss Jansons, Riccardo Chailly, Jurjen Hempel, Massimo Quarta, Dirk Brossé, Juozas Domarkas, Carlos Miguel Prieto and Toby Hoffman.
Lisa plays a Rugieri violin from 1683, given to her on loan by a private person for which she is very grateful.
This years engagements include concerts with the Bruch, Dvorak, Mendelssohn, Nielsen, Wieniawski and Vivaldi concertos, including concert tours to Italy, Portugal, Germany and of course The Netherlands.
November 2013, her debut cd with works by Franck and Ysaye was highly successfully released on Challenge Records International. Her second album with Locatelli violin concertos on Cobra Records was released summer 2016 and made it already to No. 1 Bestselling album on Native DSD worldwide within two weeks after its release, beside many raving reviews in the international press. It was chosen both Best Album by the leading magazine Luister and  Classic FM. Future releases comprise Nielsen's violin concerto with the Bremer Philharmoniker (2019).
Besides her concert career, Lisa Jacobs greatly enjoys teaching and is regularly invited to give masterclasses at conservatories in The Netherlands, Portugal and Germany and is a professor at the Royal Conservatory of Ghent, Belgium.
Lisa Jacobs is very honored to be chosen as one of Pirastro's artists since 2017.
Nederlands topvioliste Lisa Jacobs wordt geroemd om haar gepassioneerde, meeslepende en virtuoze spel, verrassende programma's en podium presentatie in combinatie met haar frisse uitstraling.
Op 17-jarige leeftijd maakte Lisa haar succesvolle debuut met het Koninklijk Concertgebouworkest o.l.v. Riccardo Chailly en speelde sindsdien meerdere malen in alle grote concertzalen van Nederland en verder over de hele wereld, zowel in kamermuziekverband, op festivals, en als soliste met vele orkesten en gerenommeerde dirigenten, waarbij zij steevast door zowel het publiek als de pers met open armen wordt ontvangen.
Lisa won verscheidene eerste prijzen op (inter)nationale concoursen waaronder het Internationale Jascha Heifetz concours in Litouwen, waar zij tevens de publieksprijs in de wacht sleepte. Daarnaast ontving zij meerdere beurzen in Nederland, Italië en Frankrijk en was zij winnaar van de prestigieuze Grachtenfestivalprijs.
Zij soleerde onder andere bij het Koninklijk Concertgebouworkest, Brussels Philharmonic, Amsterdam Sinfonietta, Bremer Philharmoniker en werkte samen met gerespecteerde dirigenten als Neeme Järvi, Riccardo Chailly, Massimo Quarta, Otto Tausk, Dirk Brossé, Jan Willem de Vriend, Carlos Miguel Prieto en Toby Hoffman.
Lisa bespeelt momenteel een Rugieri uit 1683, die haar particulier ter beschikking is gesteld. Zij is hier heel dankbaar voor.
November 2013 werd Lisa's debuut-cd uitgebracht door Challenge Records International en buitengewoon lovend ontvangen door de internationale pers. Een volgend album met vioolconcerten van Locatelli op Cobra Records (2016) was binnen twee weken na release No. 1 Bestselling Album op Native DSD wereldwijd, naast talloze jubelende recensies in de internationale pers. Daarnaast werd het album verkozen door de Luister als Beste Album en ontving het een Cum Laude van Classic FM. Ook haar daaropvolgende album met alle Haydn vioolconcerten was een internationaal succes. Toekomstige opnames omvatten onder andere het Vioolconcert van Carl Nielsen (2019).
Komend seizoen soleert Lisa onder meer in Italië, Mexico, Duitsland en Nederland met vioolconcerten van Bach, Dvorak, Mendelssohn, Nielsen, Vivaldi en Wieniawski. Daarnaast geeft Lisa geregeld masterclasses aan hogescholen en conservatoria in binnen- en buitenland en tourt zij veelvuldig met haar strijkorkest The String Soloists. Daarnaast is zij verbonden als docent aan het Koninklijk Conservatorium Gent (België).
Sinds 2017 is Lisa Jacobs een Pirastro Artist.