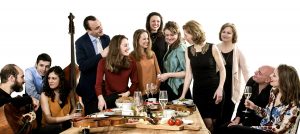 The String Soloists is an international dynamic string ensemble based in Amsterdam, comprising 14 string players who perform under the leadership of artistic leader Lisa Jacobs. Their approach to music-making without a conductor is what distinguishes the group from the regular chamber orchestras. It demands intensive involvement from all the musicians.
Founded in 2015, The String Soloists have already performed at major venues in the Netherlands, Germany and Italy and were invited several times to perform live on Dutch radio and television. Highlights of past season included their successfull debut in the prestigious sunday morning series of the Amsterdam Concertgebouw, the Robeco Summernights and concert tours to Italy, Germany and Portugal.
The repertoire of The String Soloists encompasses a variety of styles, ranging from Baroque to contemporary works. Alongside performances of the mainstream repertoire, the ensemble focusses on performing unjustly neglected works.
The composition of the ensemble enables them to play both as ensemble member and a soloist within the group. Besides their involvement in the String Soloists, all musicians individually are active members of the international music scene, both as chamber musicians and solo players.
Bezetting:
Saverio Gabrielli, viool
Tessel Hersbach, viool
Emma Roijackers, viool
Wan-Ru Cheng, viool
Katya Woloshyn, altviool
Maria Sofia Espiga, altviool
Aleksandra Kaspera, cello
Antonis Pratsinakis, cello
Benjamin Ziai, bas
Jan van Grootheest, klavecimbel
The String Soloists is een dynamisch internationaal strijkersensemble. Opgericht in 2015 in Amsterdam bestaat het ensemble uit 14 strijkers, die concerteren onder leiding van concertmeester Janneke van Prooiien en artistiek leider Lisa Jacobs. De keuze zonder dirigent te spelen vergt een grote inzet van alle musici afzonderlijk. Het ensemble bestaat dan ook uitsluitend uit musici die naast hun betrokkenheid bij The String Soloists allen actief deelnemen aan het internationale muziekleven als kamermusicus of als solist.
Sinds de oprichting heeft het ensemble reeds veelvuldig geconcerteerd in de grote zalen van Nederland, Italië en Duitsland. Bovendien worden zijn regelmatig uitgenodigd voor live optredens op de nationale radio en televisie.
Hoogtepunten van komend seizoen zijn onder andere hun debuut in het Amsterdam Concertgebouw tijdens het Zondagochtendconcert en de Robeco Summernights, naast talloze concerten op gerenommeerde podia in Nederland en  tournees naar Italië, Duitsland en Portugal. Daarnaast zijn ze het gezicht van de concertserie Vondel Winterconcerten.
Het repertoire van The String Soloists omvat de periode van de barok tot de huidige tijd. Naast de bekende stukken is het ensemble altijd op zoek naar bijzondere 'vergeten' werken en nieuwsgierig naar nieuw werk.
De internationale pers over The String Soloists:
Style and sensitivity meets the exquisite and sophisticated
Musicweb International, UK, November 2016
Er wordt hier gemusiceerd met een elegantie die haast ouderwets aandoet 
**** NRC, NL, Augustus 2016
Die Interpretation ist ein kleines Wunder an kunstvoll-expressivem Musizieren
Pizzicato Magazine, Luxembourg, Juli 2016
'Hun benadering van musiceren zonder dirigent is wat hen van de reguliere kamerorkesten onderscheidt. Het vraagt een intensieve betrokkenheid van alle muzikanten en het resultaat is verbluffend'
****** Michel Dutrieue, Klassiek Centraal, België, Juli 2016