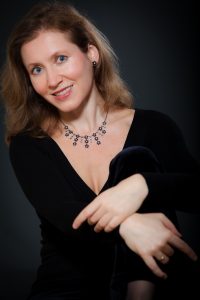 Ksenia Kouzmenko (Belarus) wordt internationaal geroemd voor haar gevoelige en technisch indrukwekkende pianospel en is zeer geliefd als kamermuziek partner.
Geboren als dochter van een pianistenechtpaar, begon zij haar studie aan het Nationaal Muziek College van Wit-Rusland, waar zij cum laude en met de Gouden Medaille afstudeerde. Vervolgens behaalde zij haar master aan de National Music Academy, eveneens cum laude, voordat zij naar Nederland kwam voor een post graduate opleiding bij Naum Grubert in Den Haag.
Van grote invloed op haar spel waren Abbey Simon, György Sándor, Lazar Berman, György Kurtág, Charles Rosen, Jan Wijn, Karl-Heinz Kammerling en Ivan Moravec.
Ksenia heeft vele prijzen gewonnen voor pianobegeleiding op diverse internationale concoursen en als soliste was zij 2e prijswinnares en winnaar van de publieksprijs van o.a. het Tromp Concours en won zij de  3e prijs bij de Rencontres Musicales de Gaillard, Frankrijk.
Ze soleerde bij the National Symphony Orchestra of Belarus, the Collegium Instrumentale Brugense en the Orchestra della Swizzera Italiana (Lugano Festival) en speelde als kamermusicus door heel Europa.
Sinds 1999 geeft ze piano onderwijs aan het Koninklijk conservatorium in Den Haag.
Ksenia vormt een succesvol duo met de Nederlandse violiste Lisa Jacobs. In 2013 werd hun wereldwijd bejubelde debuutalbum op Challenge Records uitgebracht met werken van Ysaye en Franck. Daarnaast speelt zij ook met de Tsjechische celliste Lucie Stepanova, waarmee afgelopen seizoen een volledig Tsjechisch album verscheen voor COBRA Records.
Ksenia Kouzmenko (Belarus) is renowned internationally for her sensitive and technically accomplished piano playing, and is much appreciated as a partner in chamber music.
Mrs Kouzmenko was born in Minsk into a family of pianists. She began her studies with Vladimir Zaretsky and Grigory Scherschewsky at the National Music College in Minsk. At the age of twelve Ksenia made her debut as a soloist with orchestra. She graduated cum laude, with Gold Medal. After that, Ksenia continued at the National Music Academy with Vladimir Olovnikov, where she received her Master degree, also cum laude, as a soloist, a teacher and in chamber music. Finally, she made her postgraduate studies with Naum Grubert at the Royal Conservatory in The Hague, with financial support of the Yuri Egorov Foundation. 
Ksenia received prizes for accompaniment at numerous international competitions. As a soloist, she won the 2nd prize at the Tromp Competition in Eindhoven, where she received the Audience Prize as well, and the 3rd prize at the Rencontres Musicales de Gaillard, France.
She played with the National Symphony Orchestra of Belarus, the Brabants Orkest, the Collegium Instrumentale Brugense and Orchestra della Svizzerra Italiana.